IN WHICH AUTHOR TEA KRULOS TRAVELS TO SAN DIEGO, VISITS COMIC CON, STAYS IN A CONDO WITH A GROUP OF REAL LIFE SUPERHEROES AND JOINS 30 OF THEM ON A HUMANITARIAN MISSION, AMONG OTHER THINGS

FRIDAY, JULY 22- San Diego
I spent much of the early hours of Friday traveling by taxi, bus, and plane and had at last arrived in San Diego. I sat outside the airport taking in the pleasant California air, admiring the long rows of palm trees everywhere. A young man approached me and said "Are you Tea Krulos?" It was
Anonyman
, the Real Life Super Hero of Saskatoon. Through secret superhero information networks (ah, ok, the internet) we found that our flights were touching down less than ten minutes apart. After asking at the info desk, we ran and caught a bus, then a trolley train, then another bus and eventually arrived in Mission Beach.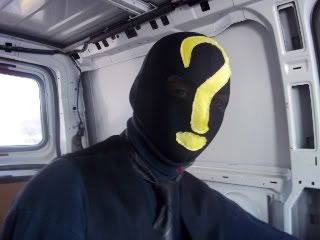 Anonyman
The streets of Mission Beach were filled with people walking about with surfboards or body boards tucked under their arms. The weather was incredibly beautiful.
We found our lodging for the weekend- a condo on the beach nicknamed the "
Hero House
" (not to be confused with the proposed RLSH reality show for the IFC channel)and after a call to
Knight Owl
were given the access code to the door. Me, Knight Owl and Anonyman's roommates-
EON
, down from Monterrey,
Superhero and Lady Hero
, from Clearwater, Florida,
Thanatos
, from Vancouver, and
Sage and The Handler
(along with her trained service dog,
Gio
) from Los Angeles.
Hero House roomies: EON, Knight Owl, Lady Hero, Thanatos
As I promised to do, the first thing I did was changed into swimming trunks and dived into the bay outside the Hero House. It was refreshing. Then I quickly changed and headed to the Comic Con. I sat next to a woman dressed as Poison Ivy and a woman dressed as some sort of elvish warrior on the ride there. I was pretty stoked- I have always wanted to go to SDCC and here at last it was happening.
Outside the Con, I met up with San Diego RLSH
Urban Avenger
, who let me use his Con pass to get it. I shortly met up with Knight Owl, who guided me through the huge exhibition hall. I can only describe it as completely overwhelming- thousands of people walking around in costumes of every comic book, sci fi, video game, horror movie and cartoon character you can think of and many you had no idea could exist. I even saw a sexy dalek and a sexy ewok costume.
After cruising around some of the major points, like the DC Comics pavilion and the Marvel Avengers stage, we headed out to the lobby where we met Superhero and Lady Hero. Superhero is an old school RLSH who adopted his name and gimmick from his days as a former semi pro wrestler. He now works in broadcasting.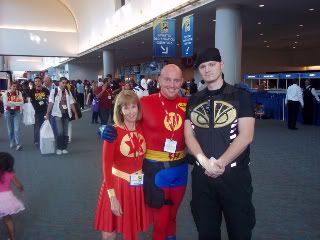 Lady Hero, Superhero and Knight Owl inside Comic Con
And soon we were also joined by
Good Samaritan
, of Los Angeles, and Anonyman arrived too. I headed with them back to the Con floor, which was closing up soon.Soon the streets outside the Con were packed with superhero aficionados.
There was a meet up for a patrol with several visiting RLSH in attendance, but me and Knight Owl agreed it had been a long day on our feet, with another long day to follow, so we headed up 5th Street. We got dinner at a pub then took a taxi to the Ruby Room to catch a set by renowned nerdcore rapper
MC Frontalot
. It was a good show in a laid back atmosphere.
After the show we were picked up by EON, who had just rolled into town and we headed back to the Hero House. It was a full house with Anonyman sleeping on the couch and Thanatos on the floor. Thanatos woke up on our arrival to greet us. His tattoo count had climbed since I last saw the 61 year old RLSH on the streets of his hometown of Vancouver in February- he now has 109. He explained some chinese characters on his back that translates as- "death is only the beginning." Me and EON decided to camp out on the roof of the Hero House. At that point I didn't care if I was sleeping on a bed of nails. I was pretty dang tired.
SATURDAY, JULY 23

THE HOPE MISSION
Saturday was the big day for the RLSH. It also started out on a note of high tension- someone had posted a Facebook page saying that
New York Initiative
member
Zimmer
(currently staying in Austin, TX) was dead. The relieved RLSH were able to get confirmation that someone had gotten him on the phone and that the Facebook page was some sort of twisted hoax.
As the other Hero House room mates headed to Olive's Cafe- a nice little place where the Hero House met daily for breakfast- I got into Sage and The Handler's van, along with Anonyman. Gio rested on the floor. I was unfamiliar with this couple, so I was glad for a brief chance to get to know them. The Handler, originally from the Canary Islands, is a professional dog trainer and Sage is a consultant and author of the new book
How to Become a Superhero
. He very generously gave me a copy and I look forward to starting to read it soon.
The Handler and her trusty sidekick, Gio
We got
Razorhawk
, the chief organizer of the HOPE event on the phone and he directed us to a parking lot near Garfield High School, the staging area for HOPE. A refrigerated food truck from the charity Feeding America, arranged by Sage, was idling in the lot. Inside- hundreds of Subway sandwiches, granola bars, pears, Naked brand fruit juice, and bottled water.
RLSH and media quickly began to arrive in the lot and the scene soon became dozens of RLSH hugging, shaking hands, slapping each other on the back and cameramen adjusting their equipment.
Violet Valkyrie and Hope
, of Southern Mississippi arrived, followed by
Mr. Xtreme
, leader of the San Diego
Xtreme Justice League
. Director
Michael Barnett
and producer
Theodore James
, creator of the RLSH documentary
Superheroes
showed up with a crew to get footage for a possible DVD extra.
Following them in a steady stream-
Vigilante Spider, Good Samaritan, Bearman, Radnor, Moon Knight
(who styles himself after the Marvel Comics character),
Miss Fit
(along with her documentary crew),
Geist, Crimson Crow, Prof. Midnight
(of the
Black Monday Society
),
Sam Chen, Alpha Blue
, and then the previously mentioned room mates from Hero House. A crew filming for the National Geographic show Taboo were there, a local San Diego news affiliate, and
Knut
, a Norwegian photographer.
Real Life Superhero Project
coordinator
Peter Tangen
and
DC's Guardian
arrived in a truck hauling a trailer. Inside the trailer- hundreds of sleeping bags and backpacks filled with supplies. Each backpack had socks, a t-shirt, water bottle, and toiletries.
DC's Guardian at the trailer full of backpacks, sleeping bags, and supplies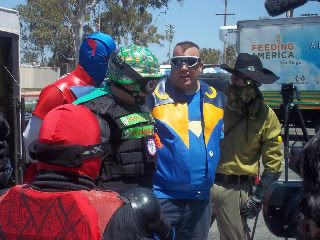 Vigilante Spider looks on as Mr. Xtreme, DC's Guardian, Razorhawk and Geist rally the troops
The RLSH were divided into three teams and I requested to be assigned to a team as well. My team leader was Mr. Xtreme and my team mates were Prof. Midnight, The Handler, Sam Chen, Moon Knight, Thanatos, and Anonyman. The teams headed down the street where each team was assigned to a street- 15th, 16th, and 17th streets. My team had 16th. The food truck and supply wagon followed us and everyone began loading up on backpacks, sleeping bags, and filling bags with food.
We soon encountered a block long section where people were sleeping right next to the sidewalk in makeshift tents constructed out of tarps, cardboard, shopping carts, and whatever else. It was a hot day. We began to hand out the supplies. The RLSH talked to several people living in the tents about who they were and passed out the supplies. I saw one guy beginning to eat the sandwich so quickly I thought he might choke.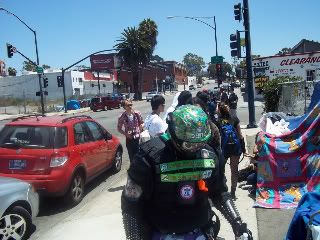 Mr. Xtreme's team in action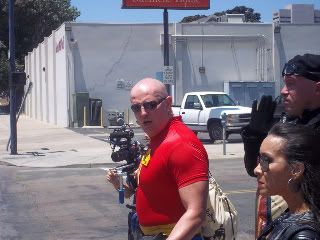 Superhero, EON and Miss Fit on the street
As we continued down 16th we encountered an outdoor festival where a large group of homeless had congregated. The teams and trucks all met up and decided to operate out of this stationary location. Joining us at this location was
Danger Man, Night Bug, and Rock N Roll
. There was also a brief appearance by RLSH supporter/ artist
Ohm
.
I jumped into the food truck to help Sage, Sam Chen, and other volunteers distribute food. We put together a little of everything into bags as a lunch and handed them off to RLSHs who distributed the food. Across the street, RLSHs were passing out the backpacks and sleeping bags as well as shaving cream and razors.
Sam Chen, Sage, EON and another volunteer inside the food truck
Word got out.
Soon both the trucks were surrounded by a huge group of homeless and downtrodden people. I will never forget looking out the back of that food truck at the crowded group of dozens and dozens of hungry, desperate faces. We were working to put stuff together for them as fast as we could. We ran out of bags, so began filling empty boxes. We ran out of water, but kept going, giving people extra juice. We ran out of sandwiches but kept passing out granola bars and fruit. Across the street they had gone through everything. The vast amount of supplies had been distributed in what I would guess was about an hour.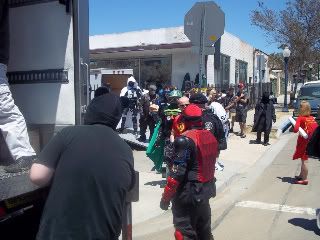 A RLSH assembly line moves supplies from truck to trailer
Heroes united- you can see me in the back row behind Razorhawk, between Crimson Crow and Bearman
TANGEN SHOOT
After things were wrapped up near 16th and Market, there were a couple group shots, and then everyone headed to a studio Peter Tangen had procured for doing some portraits and full body shots to be used for a HOPE group photo.
As we walked back to our cars, I got a chance to talk with Razorhawk.
"It's really weird how much these guys mean to me," he said. "It's the one thing I feel I got right in my life, besides my family." He also says he is indeed going to plan a HOPE 2012, and based on what we had seen today, hopes to double the effort.
When we got back to the parking lot, I got into the passenger side of Mr. Xtreme's van- not only his vehicle, but was also his home for awhile when he fell on rough times.
At the studio time was pressed so the RLSH lined the hallways waiting for their spot in front of the camera. The hallway was filled with RLSHs talking shop about gear, sometimes in muffled voices through spandex, as people were sometimes shouted for down the hall to get in the studio.
"ANONYMAN?! WHERE IS ANONYMAN?" and "BEARMAN!" and "URBAN AVENGER- MOVE TO THE HEAD OF THE LINE!"
XJL member
Orange Cricket
met up with everyone at this point.
Ladies of HOPE at the Tangen shoot- Miss Fit, Violet Valkyrie, Rock N Roll, The Handler, Lady hero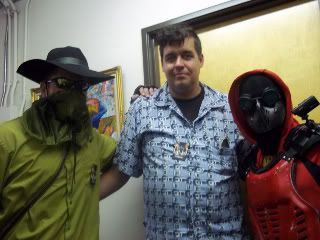 Geist, myself, Urban Avenger at the Tangen shoot
After quickly rotating through, people began heading out for the screening of Superheroes at the Comic Con.
SUPERHEROES AND AFTER PARTY
I was very thrilled to see the
Superheroes
documentary, and even more so to see it sitting next to the stars of the film. I have always felt that the success of Superheroes is probably good for me, as we cover a lot of the same ground. The scenes of the New York Initiative's apartment- I stayed there! The streets of Vancouver- I joined Thanatos there!
Superheroes
was picked up by HBO and premieres there early August. All I can say is the film was fantastic and exceeded my expectations. They got a good mix of material and the editing, soundtrack, and film work was great.
After the film ended, there was much applause and a Q and A session with Mr. Xtreme, Thanatos, Superhero, and a psychologist and police officer featured in the doc.
And after that? After party! The film makers had booked a private room at the Hard Rock Cafe across the street for the RLSH and film crew. It was kind of funny to see the RLSHs in their gear mingling with well heeled movers and shakers. There were quite a few people from HBO there, I imagine, and even the actress who plays the naughty vampire
Jessica
from
True Blood
attended. There was complimentary food and drink and the RLSH moved around the room socializing. Good times! After the party, Sage and The Handler loaded their van with weary RLSH and returned us to the Hero House.
Mr. Xtreme and me at the Superheroes after party
SUNDAY, JULY 24
Tea Krulos vs Miss Fit Arm Wrestling Competition Outcome:
DRAW
Sunday was a more relaxed day where a lot of people did their own thing. After breakfast at Olive's, I went swimming again, then returned to the Con. I wanted to see a Doctor Who panel/ signing but the line was outlandish, so I just strolled around the Con taking in the sights.
In the afternoon Miss Fit and her husband
Gregg
picked me up and we went over to Balboa Park. The two wanted to get some footage of me and Miss Fit interviewing each other for the documentary they are creating titled
The Adventures of Miss Fit
. She asked me questions about my journey writing
Heroes in the Night
and I asked her about her goals as Miss Fit. I think this interview went extremely well.
Miss Fit is a body builder and I thought a great way to test her muscle power was to challenge her to arm wrestle. For added fun, I suggested loser donate 20 bucks to charity. As the cameras rolled we struggled to budge each other. Miss Fit has superior bicep power to me, but my long arms (I'm about a foot and 4 inches taller than her) give me leverage. After feeling the burn, we decided to call a draw and agreed I would pay 20 towards her charity, a Cancer benefit, and she would pay 20 towards mine- the Red Cross.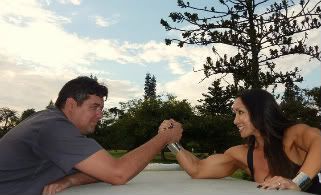 Krulos vs. Miss Fit 2011
Rematch 2012? It's possible!
Me, Gregg, and Miss Fit returned to the Hero House to discover that Superhero had been hard at work at the grill using his superpowers to grill us up some fantastic steaks. There was a lot of socializing and saying goodbye as people left. Monday morning, the Hero House crew made sure the house was in order, had breakfast, and then headed to the airport.
What a weekend! Also, I'm officially announcing that I will be attending
HOPE 2012
.
See you in San Diego!