THE CHALLENGERS TEMPORARILY BECOMES LARGEST RLSH TEAM AS OVER 150 PEOPLE SWORN IN AS HONORARY MEMBERS UNTIL 8PM
The
Riverwest 24
is an annual bicycle race organized by members of the community of Riverwest. Riders in solo or team divisions test their endurance by seeing how many laps of the route they can complete in a 24 hour period.
Along the way there are several opportunities to complete bonus checkpoint challenges to gain extra points. Last year I was invited to come up with a bonus checkpoint that featured local Real Life Super Heroes
The Watchman
and
Blackbird
. We had people assemble a superhero costume and talk about what it means to be a hero in front of a video camera. He can see my blog post on that effort
HERE
.
We were invited to return with a bonus checkpoint this year, and decided to set up in Gordon Park midnight- 2AM.
As riders approached the entrance to the park, they were given two options- travel down path A or path B. Going down the right path would lead them out of the checkpoint, going down the wrong path (path B) would be a dead end where they would meet the mysterious Blackbird...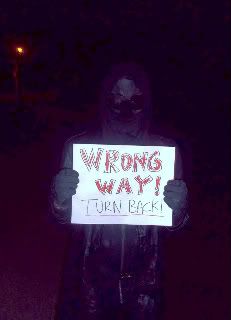 Going down the correct path (path A) led them into the woods where they encountered The Watchman and
Crimson Crusader
. They had the riders raise their right hand and recite this oath:
AS a deputized member of The Challengers, I vow to perform the following duties until the end of the Riverwest 24-

Keep myself hydrated

Obey traffic laws

Keep vigilant about my safety, the safety of other riders and the citizens of Riverwest.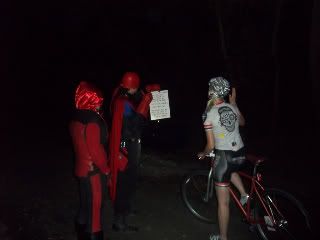 A rider pledges her support as an honorary Challenger
The Watchman and Crimson Crusader, leading riders in reciting the oath
After their pledge was completed, the riders were recorded as having completed the checkpoint and reentered the race route. The person tallying the bonus tells me 151 people completed the checkpoint. In addition, a couple groups of people not signed on for the race heard about the checkpoint and ventured into the woods to check it out.
More riders sworn in as Challengers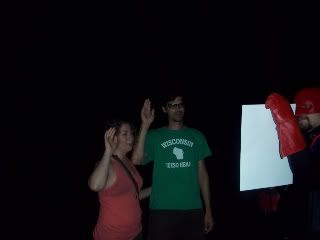 A somewhat surly looking David Beyer, Jr. and his assistant Courtney being sworn in. David is a cartoonist and has contributed a few illustrations to Heroes in the Night
After the checkpoint I headed out but The Watchman and Crimson Crusader carried on to do a foot patrol.
As always, a good time. The race ends today at 8PM, so I'm heading out now to cheer the riders on! (and you can see live updates on their site-
riverwest24.com/leader-board
)