ANOTHER RLSH "EARLY PROTOTYPE" DISCOVERED--ALABAMA SUPERHERO'S PASSION ALSO CAUSED HIS DEATH
Superhero
is a Real Life Super Hero from Clearwater, Florida, who first adopted his gimmick as a wrestler. He patrols the streets in a smoking red Supermobile and (among other activities) offers roadside assistance to those in need. His superhero inspiration is not
Kick-Ass
or
The Dark Knight
but rather the 1960s
Batman
show starring Adam West.
While searching the internet for customized Batmobiles, Superhero stumbled across a discovery- a man operating in the 1970s and 80s in Birmingham, Alabama known as the
Birmingham Batman
.
"Just literally was looking for Corvettes converted into Batmobiles to add pictures to my 'Bat-Vettes' album." Superhero says. "It's a fairly common thing, probably because it's a two seat car. And one site had a picture of the "Bat-Rescue Ship" which belonged to Birmingham (and killed him) which got me looking deeper."
Superhero had in fact found a doppelganger of sorts- a man who was also inspired by the Adam West Batman, had a custom made hotrod and offered people roadside assistance.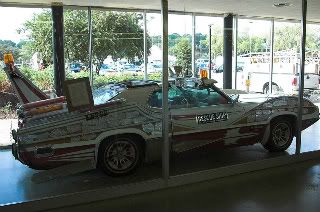 The Bat Rescue Ship on display.
APPEARANCE/ MODUS OPERANDI
Despite the name, it would appear that the Birmingham Batman's costume and car did not very much resemble the famed DC Comics star. Writer Lou Anders recalls meeting the Batman as a child in a 2006 entry on his blog, Bowing to the Future:

"Batman was an African-American. He didn't wear black or blue tights but instead a sort of jump-suit that was white with brown trim. He had a brown motorcycle helmet that said "Batman" on it. He did have the right shape cape, although it was brown... admittedly, he looked a good deal more like Evil Knievel than the Darknight Detective. And even as a kid, I wondered why he had latched onto the name "Batman" and not picked something more original or at least more appropriate. I think it had to do with his car, and with the fact that Batman was the only superhero so strongly identified with his wheels.

The Birmingham Batman drove a suped-up corvette (note: a 1971 Ford Thunderbird), white with brown trim just like his costume, and covered in reflective decals. It had funky flashy lights, fins, and a half dozen different types of radio aerials. There was no such thing as GPS back then, but the car had CBs and police-ban radios, and some sort of bulky telephone. I remember a rocket launcher too, but that's probably just the embellishment of my childhood imagination."
A Birminham wiki entry and other sources say Batman's name was Willie James Perry, who worked as a manager at a window distributor company.
The entry offers this as his superhero mission:
"In addition to carrying gas, jumper cables and tools to help people whose cars had broken down, Perry gave free rides to people who had too much to drink, took elderly people to doctor's appointments and drove kids around to McDonald's or as entertainment for birthday parties."
Front end of the Bat Rescue Ship
BRUSHES WITH FAME
The Birmingham Batman made a TV appearance on the show
That's Incredible!
in 1982.
His car also attracted a famous star- a young Michael Jackson. In a blog entry, writer Ed Reynolds recalls:
"When the Jacksons were in town years ago rehearsing for a tour, Michael Jackson ordered his limo driver to pull over so the singer could examine the Batmobile."
Reynolds also fondly recalls Birmingham giving him a lift- to his own wedding.
DEATH AND LEGACY
The car that had become so important to his life also was the cause of death. In 1985 the Batman was working on his car when his garage door slid shut and he died of carbon monoxide poisoning. He was 44 years old. The City of Birmingham bought his car and displayed it for years at the Southern Museum of Flight and later State Fair Park.
In 2009, the Birmingham City Council voted to keep and restore the car and find a place to display it. It is unclear to me where the car ended up but it was either the refurbished State Fair grounds or the Old Car Museum.
Another RLSH inspired by the story who did some online sleuthing was San Diego's
Urban Avenger
of the Xtreme Justice League. I asked him what had grabbed his attention about the story.
"Just his completely selflessness," Urban Avenger replied. "The dude took no credit for what he did. He never sought attention. Everything that was written about him was mostly posthumous. And it was his sheer awesomeness that made him legendary. He was the definition of a true superhero. I think more people should aspire to be what this guy embodied. I don't know how he did it or what his day job was to be able to afford the things he had and did for people, but he did it, and without taking anything in return."
Comments sections of articles on the Birmingham Batman indicate he is still remembered fondly after all these years. Someone even paid small tribute to him in 2009 with a MySpace page that linked to Birmingham crime maps.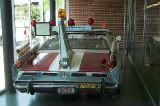 SOURCES
- "The Batman of Birmingham," Feb.18, 2006, Lou Anders, louanders.blogspot.com
-Willie James Perry- BHAM Wiki entry
- "Runaway Bridegroom," June 30, 2005, James Reynolds,
Black & White
- "Birmingham's "Batmobile" will be kept, restored and displayed by city," March 31, 2009, Jeff Hansen,
Birmingham News
-"I Remeber the Night Batman Died," 2009, G.W. Brown,
Herald-Citizen
-Online interviews with Superhero and Urban Avenger
-"A New Batman for Birmingham," Jan.27, 2009,
Birmingham Terminal