It was great to meet French photojournalist Pierre-Elie de Pibrac and his girlfriend Olivia. I have been communicating with him for quite some time and I was glad to host them in Milwaukee. They are pictured here with Watchman and Blackbird in Heroes in the Night world headquarters: my kitchen.
Pierre and Olivia did in depth interviews and separate photo shoots with me, Watchman, and Blackbird. They have been on a great American RLSH tour- New York, Washington DC, Portland, San Francisco, San Diego, Los Angeles, Jackson, MI, and Chicago. Here we see Pierre and Olivia interviewing Blackbird.
I was fortunate to see all of the pictures from the trip so far and they were all just incredibly brilliant. They took pictures of Watchman underneath a highway overpass near the Amtrak station. For Blackbird's shoot I spoke to my friends at the Downtowner- a space being renovated and temporarily being used as an artist studio space. The Downtowners were good hosts, let us use their equipment and were very interested in the project. Pierre is in the foreground shooting Blackbird with a "bird signal" shining on him.
The Riverwest 24 goes from 7PM on July 30 to 7PM July 31. It is not so much a race as a community event. It is completely grassroots and DIY with local sponsors, not corporate giants. It is pulled off with a huge amount of work from a small but dedicated group of organizers as well as countless volunteers, businesses, and the neighborhood itself. Block parties are organized, and some neighbors just sit in lawn chairs, drinking beers and cheering the riders on.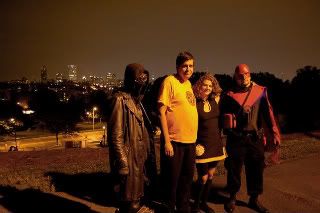 This photo is by Brian Jacobson- the rest were taken by me
This year the RW24 organizers asked if we could do something with RLSHs for a bonus checkpoint. The bonus checkpoints are two hours long and spread out throughout the race. Riders must complete the challenge and get their team checked off. Some of them are just for fun- getting a wacky haircut at the local barbershop, or shooting five free throws at a basketball court. Others help with good causes- one of the challenges was going to the local grocery store and buying two non-perishable food items for a local food bank. My checkpoint took place from Midnight- 2AM at the top of Reservoir Hill in Reservoir Park. Pictured with the RLSH are myself and Jenerous Beatings, who volunteered to help. JB is a member of the local roller derby league and helped start a concerned citizens foot patrol in the neighborhood at one point.
Here are the guys with bonus checkpoint coordinator Kelly. She was on hand to sign all the riders off as having completed the checkpoint. Me and Kelly organized a crew of a dozen volunteers. Four people stood at the bottom of the hill directing the bicyclists in the right direction through the park. At the top of the hill, another five volunteers directed people through the entire process- people had to quickly assemble their own superhero costume, picking from a variety of masks, capes, and random things. These were all collected from friends or bought at a local costume store and the Dollar Tree.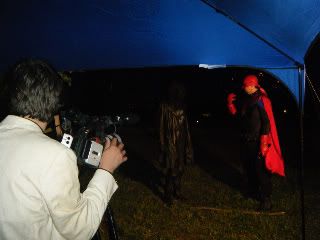 Once in costume, they then had to step in front of a video camera, flanked by Watchman and Blackbird. I asked them a rotating list of questions about what it takes to be a superhero, what things every day people can do to be superheroes, etc. Film maker Matthew Miller and an assistant put forward an incredible effort- they drove an A-Team style van up the hill, set up a generator, studio lights, and the camera. The weather was iffy, so we set up a tarp tent over the camera equipment.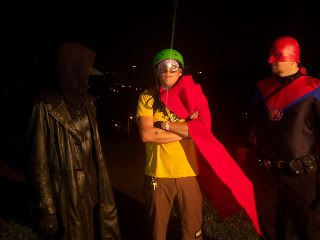 Bonus Checkpoint rules are very strict- the checkpoint started as soon as the clock struck midnight and ended at exactly 2:00:00AM. Completing the checkpoints is a key to winning the race, so we soon saw a fleet of bike headlights pedaling up the hill. Here are the guys with one of the deputized RLSHs- we'll call him "Gear Man."
There are a number of solo and team divisions for the race. Here is one of the tandem bike teams- Team Doublemint.
Many of the answers people came up with were really good and some of them, well...not very good. For example one guy cited "giving LSD to your mom" as a heroic act. Here we see, uh...the "Magic Crocodile Avenger?"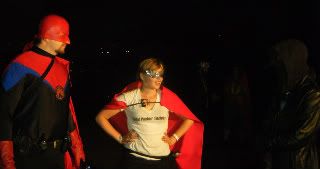 I thought this event would be good for the guys because it was a fun way for them to meet a large group of people that are from a neighborhood they patrol frequently. So next these people see them on the street, they'll be like-
oh yeah I remember those guys- I dressed up like a superhero with them
. There's "Pedal Pusher Woman."
"Tu Tu Man" here showed up in his own costume!
This year the RW24 filled it's 500 rider capacity very quickly. 112 teams made it to our checkpoint. Some of those teams were tandems, though, so I would guess the number to be about 125 riders. Here is an assembled team of costumed bike riders.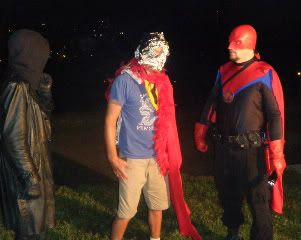 "Tin Foil Man" simply grabbed some tin foil and wrapped it around his face.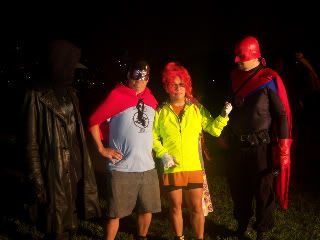 The pace was very hectic for the first hour and a half. If we hadn't had the volunteers, we would have been screwed. Here is another tandem team.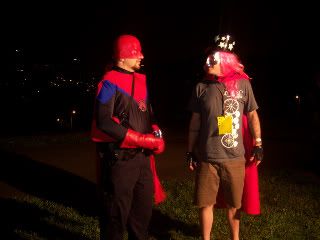 I think this was one of the last guys (let's call him "Doctor Why") at the checkpoint. Kind of a blur. We were fortunate in that rain held off for the most part until the checkpoint ended. As we started packing up gear, though, it started coming down hard and we all got soaked- but at least we had accomplished it and everything ran smoothly.
And here is the race start/finish line shortly before the end of the race.
The bonus checkpoint went great, and I want to thank everyone who helped out. Everyone had a smile on their face, and many people approached me later in the race and told me how much fun they had. Matthew Miller is now working on editing the footage for a short YouTube video documentary in which I will talk a little bit about Heroes in the Night and then footage from the checkpoint. I will post when the video is online.
You can see more pictures at a flickr page titled
Riverwest 24 Heroes
. There is about 40 posted now- I have about 70 more, but didn't realize there is a monthly capacity for Flickr, so I will be uploading more soon.