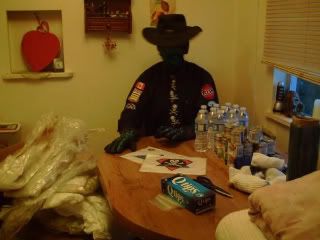 Vancouver
Mayor Gregor Robertson
began his term in November 2008. According to the City of Vancouver
website
, "He was elected on a platform of ending street homelessness in the City of Vancouver by 2015, and making Vancouver the greenest city in the world."
Thanatos
, the Dark Avenger of Vancouver, thinks he can do more. He has offered an online video challenge for the Mayor Robertson to join forces with him to help Vancouver's large homeless population.
You can watch the
VIDEO CHALLENGE HERE
.
"He really isn't a bad mayor and he has tried to do a lot for the homeless problem.
I think he can do more. I can." Thanatos wrote online on a forum.
Thanatos does monthly hand outs of water, food, tarps, blankets, and other supplies. I myself rode along with him as he did an early morning handout to homeless along with others during the 2010 Winter Olympics. It was very clear that he had a working knowledge of where to find Vancouver's homeless and how to approach them, even while wearing a green skull mask.
Thanatos knew the names of many he encountered, and in return many knew his name and recognized him as a friend. On his most recent mission, Thanatos handed out 70 bottles of water on a hot evening.
Heroes in the Night
has issued a media request to Mayor Robertson's office asking if they plan on responding to Thanatos. Any response will be reported here.