Tangen, left, and Krulos in Riverwest
RLSH have now long known
Peter Tangen
as "that guy who is making us look awesome with his incredibly well produced movie posters" and
Tea Krulos
as "that suspicious character who is scrutinizing us." And so it's inevitable that our paths have crossed several times.
When I first heard about Peter's LA shoot for his
Real Life Superhero Project
I said "He did
what
?!" and was amazed then, as I still am today, by the scope of his project.
Peter Tangen is a real life superhero visionary.
Besides the project itself, Peter has used the project to get a lot of positive press for real life superheroes in general, as well as participating in RLSH projects other than his own.
That is what led him to Milwaukee. Peter has signed on to help with a documentary being produced in LA and has been hard at work helping with the film. The documentary crew has been touring the country and when they heard Peter would be shooting a job on location in Detroit, and then heading to Peter's home state of Minnesota, they all said, "hey wait, doesn't that suspicious character Tea Krulos live somewhere in between? Isn't he working on some sort of RLSH book?"
And so you see, I got the news that Peter Tangen was coming to Milwaukee to film me for possible use in the film and to meet our local RLSH.
"Now that is pretty sweet." I thought. And it was.
The interviewing went well, the only issue we were frustrated with was background noise. Peter (and I) both wanted me to be interviewed in my office, which made sense since my office is set up as a RLSH headquarters, as you can see from this photograph revealing it for the first time.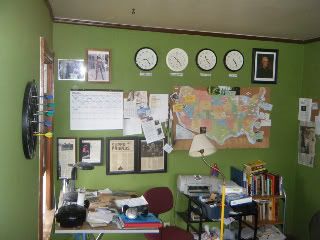 Towards the top:framed pictures of RLSH at Superheroes Anonymous 3, Lynda Carter as Wonder Woman (my patron saint for this book project),and Thomas Jefferson as well as the clocks of justice. Middle: A Calendar(one of my most important tools), bulletin board, and a US map pinpointing RLSH I've interviewed (although it badly needs to be updated). Bottom: Framed articles I've written on RLSH, messy desk, messy shelves. Far right: Another bulletin board with press I've gotten for the book so far. Far left: dart board.
Although the background was a good visual, the noise level was not. You see, my neighborhood is very noisy on a hot Sunday afternoon- kids yelling and jumping in kiddie pools, dogs, lawnmowers, car vacuums, babies, engine revving, sirens, etc. So we struggled frequently with outbursts of noise interrupting. Also, I live without air conditioning so my office got to be pretty stuffy.
Still, we kept at it and got it done. After that we had a long discussion at my kitchen table with
Watchman
and
Blackbird
. I'd like to point out that this kitchen table has so far hosted RLSH meet ups with not only a local photographer, but RLSH seekers from Paris and Los Angeles now! Not too shabby for a small upper flat in Riverwest.
We had a great conversation with Peter about his project and developements of where it might go in the future, as well as some stories from his photo shoots for the Spiderman movies and
Batman Begins
, and Watchman and Blackbird got to share their stories with him. Peter then hit the road, trying to get a couple hours start on his trip to Minnesota, where he was going to visit family as well as
Geist
and
Razorhawk
.
It was a great meeting and I am glad to support Peter in any way I can.