Operates out of
: Atlanta, GA
Activities
: Community Service and Homeless Relief

Crimson Fist quote
: "I can't save the world, but I'd like to inspire the world to save itself."
Crimson Fist's poster for Peter Tangen's Real Life Superhero Project
Metadata quote
: "I'd hate to think we'll still be here ten years from now only handing out bottles of water."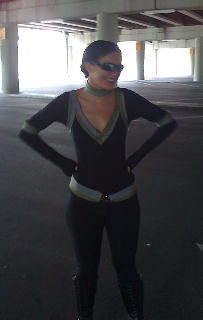 The marvelous Metadata visits Florida

Author's notes: Atlanta has a dynamic duo trying to make the world a better place. Metadata, well known for being a RLSH oracle (someone who stays online and communicates with RLSH on the street) has recently debuted her persona on street level, helping Symbiote and Master Legend with a water handout.

Crimson Fist has been active within the RLSH world for quite sometime and the two heroes hope their combined efforts can make an impact.