The
Superheroes
poster, created by Peter Tangen, features RLSHs (L-R): Dark Guardian, Zimmer, Z, Mr. Xtreme, Zetaman, TSAF, and Superhero.
Superheroes
is a documentary film about Real Life Superheroes by director
Michael Barnett
and producer
Theodore James
.
Heroes in the Night
readers will also no doubt recognize the name
Peter Tangen
, who served as consulting producer and designed the movie poster for the film. The documentary crew traveled around the country to shoot footage of RLSHs in action in New York City, Florida, Salt Lake City, Portland, Oregon, San Diego, and several other cities.
Superheroes
is set to premier this Friday (Jan. 21) at the
Slamdance Film Festival
, which is hosted in Park City, Utah, and was founded in the mid 90's as an alternative to Sundance.
Just eight documentaries were selected from thousands of submissions, and
Superheroes
made the cut.
Heroes in the Night
got the scoop from producer Theodore James in a Q and A session conducted by e-mail, which follows.

TEA KRULOS
: What was the "selling point" for you wanting to be producer of this film? Was there a defining moment where you were like, ok, let's do this?

THEODORE JAMES
: For me, it was the topic alone. I found it astonishing that real life superheroes existed and that there really had not been a definitive documentary done on them. After a few weeks of researching and conducting pre-interviews I knew that there was a great story out there waiting to be told.
TK
: Did your perception of your subject matter evolve over the process of making the film? If so- how?
TJ
: My perception of the real life superheroes did change over the process of making the film. I realized that most of them were truly dedicated to helping others, regardless the outcome to themselves. They are a group of incredibly selfless individuals working everyday to make the world a better place.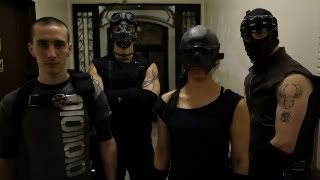 Members of the New York Initiative, (L-R) Zimmer, Lucid, TSAF, and Z, in a scene from SUPERHEROES, which world premieres at the 2011 Slamdance Film Festival.
Photo courtesy of Superheroes movie.
(
Note: If you'd like to read more about the New York Initiative, I wrote a cover story for the New York Press on them in July, which you can read
HERE
.)
TK
: Any favorite/ least favorite moments of the making of the film?
TJ
: There were a few difficulties we encountered while making the film. The first was gaining the trust of the community, which took months.
The second was travel. RLSH exist in every major city in the U.S. and we shot in over 15 of them, sometimes returning many times to certain areas, going on patrols in crime ridden neighborhoods and doing community outreach near skid rows and homeless enclaves.
The third major difficulty was technical. We shot this film on the Canon 5D. This is a still camera that just so happens to shoot beautiful video and we repurposed it for our needs before the industry had developed any technical support to assist us in making this camera cine capable.
TK
: If someone you knew, a friend or co-worker, told you they wanted to become a superhero, what advice would you give them?
TJ
: If they wanted to become a crime fighting RLSH, I'd advise them to do a lot of training. Combating criminals is not something the inexperienced should undertake.
Excelsior! Comic book icon, Stan Lee, in a scene from SUPERHEROES; a documentary film by Michael Barnett; photo courtesy Superheroes movie.
TK
: What message do you hope the audience takes away from
Superheroes
?
TJ
: We hope that the audience, after watching the film, will realize how truly dedicated these Real Life Superheroes are, eccentricities and all, to making the world a better place and to affect other people to get involved in their own communities to help and inspire change.
The film's website can be found at
www.superheroesthemovie.com
Life, a Real life Superhero of New York City, helps out in a scene from SUPERHEROES; Photo courtesy of Superheroes movie.