MOTIONARY COMICS WEEK!
Once we had established
Motionary Comics 2.0
would be about Real Life Superheroes, I had to think about what kind of story I wanted to write. I had thought about doing something non-fiction, but then decided fiction would be more fun for the artists and everyone involved.
Since the story was six pages, I decided to focus on the Real Life Superheroes most well known in Milwaukee-
The Watchman
and
Blackbird
(although I added a last minute cameo appearance by
Geist
of Rochester, MN in the beginning of the story)- we added an open invitation to Midwest RLSH to attend the event and meet the artists and audience. And so we had a crew of six RLSHs for the largest Wisconsin team up to date- The Watchman, Blackbird, Geist,
Charade
,
Electron
, and
Crimson Crusader
.
Here are some pictures by Motionary Comics photographer
Kelly Crandall
.
The Watchman and I checking out the scene.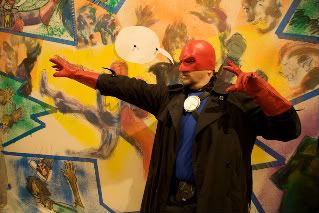 The Watchman copying a pose from his comic counterpart.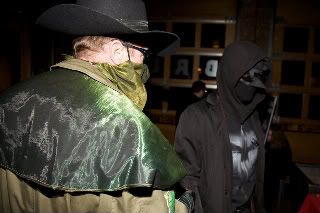 Geist and Blackbird.
This was my first time meeting these two RLSH- Electron, left, of Madison, WI and Crimson Crusader of an undisclosed Milwaukee suburb.
And here's Milwaukee's newest superhero, Charade. I didn't even get a chance to meet him, or if I did it was in a blur of lots of activity!
Geist casts his vote on the ending of the comic.
We also had some non-RLSH heroes at the event-
Chang Beer
was a sponsor of the event, and agreed to donate a percentage of beer sales to the charity we were fund raising this evening,
United Way
(who also had a table set up) and sent the mighty
Chang Beer Girls
to represent!
Yelp.com acted as a media sponsor and tabled at the event with their representative dressed up as
Yelp Girl
!
The RLSHs hung around, posing for pictures and answering questions from curious audience members, and also shooting interviews with
Matthew Pniewski
for his RLSH documentary titled
More Than Just a Mask
.
After awhile though, they wanted to get out of the crowd so they could have a chance to talk and patrol the streets of Riverwest. They started by taking a trek into the woods to drop off supplies at a homeless camp, then started on a patrol of the Center Street area. It was pretty quiet, The Watchman tells me. At some point, the group encountered some gang graffiti.
Combating gang graffiti is a major mission for Geist, so he reached into his duster jacket* and grabbed a can of grey spray paint and painted over it. This attracted attention from a nearby house party (sounds like it might be the famous punk house known as The Vault) who called the heroes over. A massive crowd from the party gathered to talk with the heroes. Finally the heroes thought the volume of the crowd was becoming a nuisance, so they said good bye and continued the patrol.
Tomorrow
: Villainy!
*Earlier in the evening Geist had also pulled a green smoke emitting smoke bomb from his jacket to use as an effect for our group photo shoot as seen
HERE
.