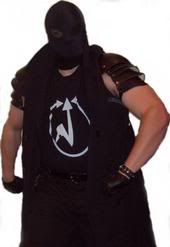 [Part of Law & Lawlessness Week]

Location
: Formerly New Orleans, last rumored to be heading north.
Battle wounds
: Rumored to have lost vision in one eye due to an altercation with criminals.
Weapons
: Rumored to be packing heat in addition to other weapons.
About his name
: As posted on a website comments section in July 2007 by Nostrum himself:
"For your reference: Nostrum (NASH-trum): a scheme, theory, device, etc., esp. one to remedy social or political ills; panacea."
Symbol
: Nostrum's symbol (as pictured), whether intentional or not, is very similar to the
international squatter's symbol
.
Author's notes: Nostrum is the first (and probably) last person profiled who I haven't actually contacted in person. Not that I haven't tried- no reply to a message sent to his MySpace page, which hasn't been logged into since December '09. When I first started on the book last April, I e-mailed a couple of people who knew him.

"Nostrum has been MIA since early January. But he wasn't one who liked being interviewed much." One person told me. This appears to be a true statement. The only write up I found on him was not based on an interview, but on info found in a publicly available profile at the outdated World Superhero Registry.

"Unfortunately, I haven't heard from Nostrum in some time. No one's been able to get in contact with him since the beginning of the year." Another person e-mailed me.
Additionally, other people told me things that they heard, but not things that they knew as fact.

Therefore, I can't report any facts. I can only report that I've heard he was one of the only people involved with this scene that carried a firearm.
I have also heard he had damage to one of his eyes following an altercation with criminals. I've heard this range from temporary blindness to actual loss of eye. There is also different speculation on where he is now and what he is doing.

Nostrum- real life superhero fact…or folklore?