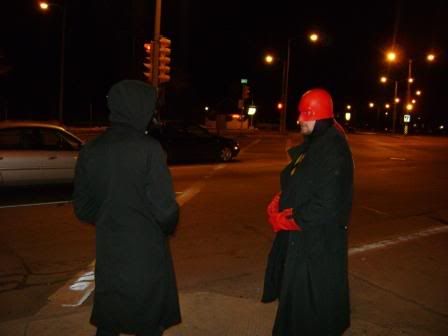 The Watchman (right) with Blackbird in Bay View
The Watchman has gotten responses from at least a couple people from Riverwest, wondering how they might be able to offer assistance. If you'd like to read more about The Watchman and Riverwest, I blogged about it quite a bit, and a good starting point is
HERE
. What Watchman is suggesting is perfectly legal, unarmed citizen foot patrols.
This is not a new concept to Riverwest. You can read two brief articles at the
Riverwest Currents
HERE
. The first is written by the
Currents
editor and is on a group called the
Riverwest Walkers
. I'm not sure if they're still active, but I'll find out.
The second article is written by yours truly and is on a group I was part of, started by my awesome tough girl roller derby friends, the
Brew City Bruisers
. The Bruisers are no less than a team of superheroes in my opinion.
Watchman would like to see people walk with him or in separate groups that will stay in contact with him (or possibly patrol by car or bike).
A second way people could participate is by hanging out on their porch(with the nice weather and all) and offering a "checkpoint." Meaning you can be the watchman(or woman) of your block, and the foot patrols will swing by periodically to say "hi" and see what's going on.
Lastly, people can help out by e-mailing The Watchman (or myself) with suggestions, ideas, or simply to talk about what is going on in the neighborhood.
The Watchman: wi.watchman@gmail.com
Tea Krulos: teakrulos@gmail.com
Here is some words from The Watchman himself:
"In discussing what we'd like to accomplish in Riverwest, I've brought up talking to people in the community. We want to speak with these people, and if people want to meet with me to find out what I'm all about and discuss what we can do together to better the community, I'm all for it.
There are a lot of things everyone can do to help. We are still in planning stages of how we want to take this on, and part of that is figuring who will be involved and to what capacity. To begin figuring out just what it is you could help with, I'd like to know a little more about you and what you might be interested in doing.
We then can figure out what would be best for you to do and coordinate that with the big picture. Tea and I have discussed meeting with people who are interested in helping and coming up with better ideas on how to proceed. We have not yet set a time, date, or place for such a meeting, but it will likely be an upcoming Saturday afternoon/evening in Riverwest.
Some general ideas range from just watching out for your neighbors and calling police if you see any type of criminal activity to doing coordinated patrols with us. Another idea being passed around is to have people providing checkpoints for us on patrols.
Any suggestions are welcome. We are very much open to hearing other people's ideas."