Night patrol- photo by Paul Kjelland
-
Tea Krulos reporting
Last night, I again hit the streets of my neighborhood with my local RLSHs,
The Watchman
and
Blackbird
. We were also joined by
Mike
, who shot pictures and video for the
Milwaukee Journal-Sentinel
and infamous
Team Cthulhu
leader
Groschopf
, a concerned citizen who likes to keep an eye open for danger.
The Watchman and Mike met up in my kitchen and then headed out to Locust Street, where Mike did an on camera interview with the red cowled crusader. I stayed behind and waited for the Blackbird to fly up from the South side.
When we got the call they were done, we headed out and met up with them, and started doing a loop around the Center Street area. I called Groschopf and we all met up at our second most frequent rendezvous point (after my kitchen)- the basketball courts on Center and Pierce. Mike followed us around and also got some react quotes from people we encountered. I'm pretty confident that this went well- a couple dudes hanging outside the Riverhorse tavern recognized The Watchman and cheered him on. Later, Mike got a positive reaction from a group of people partying Riverwest style. They were having beers in the garage with the door open, enjoying the first of the cool autumn weather and thought the RLSHs were admirable for patrolling the neighborhood.
As I've said before, I believe the RLSHs have had a very positive reception here in Riverwest.
Around 11:30PM, Groschopf and I decided we were going to split and talk about some exciting, as yet unannounced details (see previous post) about my forthcoming book,
Heroes in the Night
, at the Foundation Tiki Lounge, just off Center Street. Blackbird also decided to head to his own neighborhood where he wanted to do some late night surveillance of an area that had several non functioning street lamps. We parted with Mike and Watchman, but when we reached the corner of Booth and Center, we noticed a man sprawled out on the sidewalk, not too far from Club Timbuktu. We decided to see if the guy was alright. As we approached, we saw that the man was semi-conscious, reeked of liquor, and had managed to get his penis out of the fly of his pants and was urinating while laying down on the sidewalk, mumbling and flopping around on the sidewalk.
Groschopf and I looked at each other with a
what the hell?!
expression.
"Hey dude,dude,are you ok?" I asked. He looked up at us and said something incoherent and angry. I saw the doorman at Club Timbuktu staring at the situation and dialing his phone. A couple walked around us, frowning.
"(expletive), man, what do we do?" I asked Groschopf. We didn't know. We reasoned that trying to get him to stand or even sit would be useless- he was astoundingly drunk. I then realized that there was a superhero patrolling the streets just blocks away, so I called Watchman and told him the situation. He said he was on it, so we carried on.
When he got there, he reports, the police, an ambulance, and a firetruck were already at the scene so he stayed out of their way. He did have an opportunity to meet our neighborhood's bicycle cops who were monitoring the scene. That is a good connection for him to make as they are the ones he'll run into most frequently in this neighborhood if he's on foot. The bike cops are well loved by many in Riverwest. When I attended a neighborhood safety meeting a couple of months ago, most of the panel (aldermen, the chief of police, department of neighborhood services) received polite applause, but the bike cops got loud cheering and a standing ovation.
Mike split and Watchman was on his own on Center Street. He ran into some of the guys who recognized him earlier at Riverhorse and he says he had a good talk with them. Later he was talking with some college kids visiting from Madison(,WI)when a squad car slowed down and shined a spotlight on him. Then they announced through the squad's speakers "NICE COSTUME." The Watchman went over and had a short talk with them. They told him they were having a busy night in the area with drunk and disorderlies. He explained he was just walking around keeping an eye on things, and they seemed to take it at face value, told him to "be safe" and continued on.
So, it sounds like Watchman is continuing to make some good connections and potential allies here on the street. We're all eager to see what Mike comes up with for the
Milwaukee Journal Sentinel
, and of course I'll post it here as soon as it's available.

AMAZONIA ENCOURAGES RLSH BLOOD DONATIONS FOR OCTOBER 2

Amazonia
is planning a blood drive with RLSH for October 2 at Florida's Blood Center in Ocala, Florida and is encouraging other RLSH worldwide to donate locally on the same day. Amazonia posted this on therlsh.net forum:
"I am thinking that we should all get together and host blood drives in our own communities on the same day all across the U.S and other countries. We can all make a difference and I suggest that if your interested in doing this contact your local blood center and make arrangements to give blood that day and let them know that you want to help with organizing a blood drive that same day to help bring in more donors...Let's make this something we all can be proud of and stand behind."
RLSH CHARACTER APPEARS ON ABC's ROOKIE BLUE
A RLSH character was part of the storyline of a recent episode of the ABC police drama
Rookie Blue
, described as "the Grey's Anatomy of police drama" by hopeful critics. The parkour trained RLSH calls himself
The Guardian
, and was played by actor
Mpho Koaho
in an episode titled "Serve or Protect" which you can watch in it's entirety
HERE
. The Guardian's gimmick* is pretty spot on- paintball/motorcross type body armor.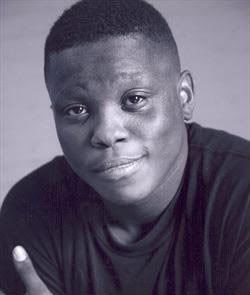 Actor Mpho Koaho
"There's a whole underground of real life superheroes." One of the officer's notes, looking at The Guardian's MySpace page.
It seems obvious that inspiration for this character might have come from New York City's own
Dark Guardian
. Besides the similarity in name, Guardian is interested in investigating and disrupting drug dealers, and a focus for Dark Guardian has been challenging drug dealers in New York. Dark Guardian was picked up and taken to a police precinct (although he went along voluntarily just to talk)and TV's Guardian also visits the precinct, but is escorted in metal bracelets.
Despite being arrested, the show has a very positive spin on the RLSH character. He is well trained in parkour and although his introduction to the police is rough, he actually helps them solve their case with pictures he's taken of a drug dealer. The rookie cops even decide to take him out to play darts with them and their cop friends.
It will be interesting to see if the character returns to become the first reoccurring RLSH prime time character.
*gimmick: what many RLSHs prefer to call their attire.