Note: Heroes in the Night partners Currents, Inc. published a nice short article on the project on page 2 of their monthly neighborhood newspaper, the Riverwest Currents for their October issue, which hit the stands today.
Support Your Local Hero: Heroes In The Night
By Currents staff
Have you ever wondered what it would be like to be a superhero?
Over the last year and a half, Riverwest author Tea Krulos has had a chance to find out as he explored a unique movement of people that call themselves "real life superheroes." Krulos traveled coast to coast to meet the heroes in person , and joined them as they tried to make the world a better place. He is finishing up a book on his experience, Heroes in the Night: Inside the Real Life Superhero Movement.
The two heroes he has spent the most time with have been Milwaukee's own Blackbird and The Watchman. He has joined them on several patrols of Riverwest, keeping an eye open for trouble- car break- ins, muggings, any situation that would call for someone to help.
Besides crime prevention, a lot of these superheroes also do charity events, participate in walks or causes, and hand out food and supplies to the homeless. In keeping with the generous nature of the subject matter, Krulos will be donating a percentage of book sales to a local charity.
Krulos is working with Currents, Inc. to publish the book and he is raising funds via the site Kickstarter, which allows you – the literature-supporting public- to pledge money toward the project. The money is only collected if the project is funded in full.
The Kickstarter is open until October 12 and you can check out the page here:
www.kickstarter.com/projects/162004565/heroes-in-the-night
There are a number of different pledge levels. One of the most basic is $35, which gets you an autographed copy of the book. At other levels you can get your own custom designed superhero mask, among other things.
A Superhero Party to help raise funds is being planned for Oct. 10 at the Y-Not III, 1854 E. Kenilworth Pl. Check for details at heroesinthenight.blogspot.com or check the heroes in the Night Facebook page.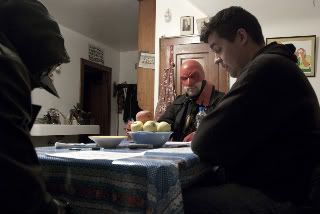 Shadowed faces and guys in masks- this has been Tea Krulos's world for the past year and a half. You can help him publish his book,
Heroes in the Night: Inside the Real Life Superhero Movement,
by pledging at Kickstarter.com. -Photo by Paul Kjelland