The Watchman has a posse- Riverwest superheroes united at the end of the walk outside the Cream City Collectives
The idea for a superhero themed community walk started when I spoke with my friends
Evelyn Sempos and Lauryl Sulfate
who were hard at work organizing an event called
Girls to the Front Festival
. Evelyn is friends with author
Sara Marcus
who is on tour promoting her book
Girls to the Front: The True Story of the Riot Grrrl Revolution
, which chronicles the early-1990s "riot grrrl movement" of bands like Bikini Kill and Bratmobile that combined punk rock and feminist ideology. I haven't gotten a chance to read the book yet, but I'm looking forward to it. I enjoyed many of these bands when I was in high school and I know they were very empowering to many of my female friends, especially because the punk rock scene often had a fair share of chuckleheads and shaved apes.
Anyway! Evelyn and Lauryl, along with a cast of other fine folks, decided they would organize a fest of concerts, workshops, and other activities to tie in with the appearance by Sara Marcus.
I was talking to them about some recent crime in Riverwest, most notably our friend
Matthew
who was shot in the chest (and is alive and slowly recovering) among other bad news. They had seen recent media on our local RLSH and knew I was working on
Heroes in the Night
and had the idea of doing a superhero walk to show a community presence. They wanted the walk open to anyone in the community who wanted to join in, not just the Girls to the Front attendees. I thought this all was a great idea- a fun way for community to get together and go for a walk around the neighborhood.
Heroes gather outside the Pink House Studios
There was a short amount of time to organize the event, but we got word out mostly by Facebook and the
Riverwest Neighborhood Association
e-mail list/google group. The walk took place yesterday evening. The meet up spot was the
Pink House Studios
, which is a space that offers yoga, pilates,and dance classes, as well as therapeutic massage. This might sound like an unusual meet up point for a superhero walk, but Pink House is very involved and supportive of community events.
About 15 people were along for the walk, most in costume (including myself!), although a few weren't which was ok- we were glad to have anyone along that was interested. People designed their own looks, although
J. Jason Groschopf
(famed
Team Cthulhu
leader who has joined us for a couple of patrols- he also was subject of an internet rumor that he was The Watchman) dressed as
Captain Hammer
(from
Dr. Horrible's Sing-a-long Blog
) and one concerned citizen arrived with his dog dressed as
Krypto the Superdog
.
The Watchman
was there and joined us on the walk.
Blackbird
was caught up elsewhere, but met up with us at the end of the walk.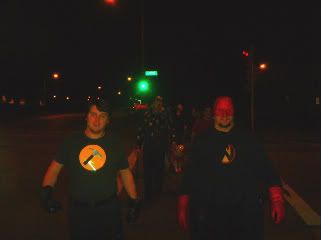 Groschopf,(on the left!)dressed as Captain Hammer and The Watchman with the group on Humboldt and Locust
We decided an hour or so long walk would be appropriate and stuck mostly to main streets- Center, Humboldt, Burleigh, and Holton. A lot of people honked horns, and one passenger shouted out "ALRIGHT, WATCHMAN! YOU'RE MY HERO, MAN!" Another woman at a stoplight told us to keep up the good work.
I think my favorite moment, though, was a porch full of kids with their dad who had heard superheroes would be walking around the neighborhood at that hour. They were keeping an eye out to see if it was true and were pretty awestruck when they saw it was.
Blackbird and The Watchman stop in the Cream City Collectives
The walk ended at the
Cream City Collectives
- a social center that has an info shop and library, a screen printing collective, gallery, and meeting space. We said goodbye to the deputized group of RLSH walkers and headed to one of our favorite meet up spots- the basketball courts on Center Street.
The Watchman did an interview there with a couple of guys from
Panthervision
, who were also along for the walk. Panthervision sounds like a superpower but actually is a news show produced by journalism and film students from the University of Wisconsin-Milwaukee. It airs on cable access and on their website. Girls to the Front also had someone filming the walk for what I assume will be a video piece on the event overall.
As Blackbird and I waited for The Watchman to finish his interview,
Ben
arrived. Ben was there to record audio for a short spot on
88.9FM- Radio Milwaukee
, a very cool local station. They are doing a series called "Make a Difference" which are short segments on local people trying to make Milwaukee a better place. Ben was there to interview The Watchman and Blackbird for the series, and I answered a couple of questions as well.
I took off after that and left the guys to hang out with Ben and Panthervision.
You win some, you lose some and I think this was a big win for everyone. I am very happy with the turn out. People had a great time and got to experience being a real life superhero, if only for an hour.
I was also very happy with the media, which I think did a fair job and will target an appropriate audience (I'll link to it here when it's available.) Thanks to everyone who participated!