FUR FLIES FOR RIVAL BLOGTALK RADIO HOSTS
When a villainous gorilla and yak-furred Christmas demon collide, the results are seldom pretty.

Hmm…I've written some weird sentences over the last 13 months, but that has GOT to be top of the list.
"Anti-hero"
Krampus
and "the most hated villain in America,"
Malvado SV
, are having a good old fashioned media rivalry, with barbs being traded on their blog talk radio shows and on their blogspot pages.
Let's take a look at these wild and woolly guys:
Krampus
is the host of the
Creature Feature
show [Saturdays, 11PM EST]. He became a co-host of the show shortly after it began airing episodes in September 2009, with show founder
Executrix
.
Executrix
recently announced she was taking leave from the RLSH scene to move into a secret Rocky Mountain based hide out with her boyfriend,
the Wall Creeper
.
The Krampus namesake
comes from European folklore
. Krampus acts as a companion to Saint Nicholas, and while Saint Nicholas awards good children with gifts on December 5, the horrifying Krampus punishes bad children.
The baritone, British accent sporting Krampus leads his guests through news of the weird, RLSH related opines, and cartoon character impersonations. Frequent guests include
Mr. Jingles
and
Mixsae
, among others.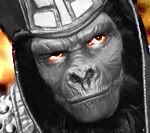 Malvado the Sound Vandal
(SV) began his show,
SV Radio
[Wednesdays, 11PM EST] early last month. The show's tagline is "by villains, for villains."
Malvado originally called himself Guerilla Grodd, a nod to
the DC supervillain
who was a super intelligent ape from Gorilla City. Grodd often tangoed with the Flash, Superman, and the Justice League. A "cease and desist" order forced a name change.
The evil ape talks about a variety of RLSH news and views. Frequent guests include
Lord Malignance
and
Poop Knife
, among others.
Of course the forerunner to both of these shows is
Meow and Friends
[Sundays,9PM PST] in which host
Apocalypse Meow
runs through weird news, and has some fun talk with various RLSH and associates.