ART APPRECIATION WEEK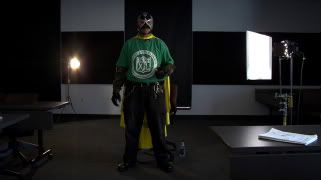 A scene from Three-Panel Dreams with San Diego RLSH Mr. Xtreme

Three-Panel Dreams
is a documentary directed by first time film maker
Adair Cole
that examines the lives of west coast (and Texan) real-life superheroes.
Adair explained the long road covered in the film:
"In our 'mobile-production Prius' we traveled from Los Angeles to San Diego to Austin, then Fort Worth, and then back to San Diego, and then to Vancouver, Portland, San Francisco/Oakland and, finally, back down to Venice, CA." Adair told me. Along that route they met 17 RLSHs.
Along for the ride were executive producer
Timothy Marx
,producers
Nicholas Walker
and
David Lawrence
and
Matt Edwards
,the director of photography. This crew all met at University of Southern California's School of Cinematic Arts.
The film is currently being shown to national and international distributors.
I got a chance to see Adair's energetic crew in action in Vancouver, boldly following the street level adventures of Thanatos, Knight Owl, Motor-Mouth, and Victim. Adair talked about the film's mission in an e-mail update to me today.
"In general, the 'mission' of our film was to handle the heroes and the community-at-large as fairly as possible. And to attempt to understand, first, why the community exists, and, second, why heroes are attracted the community.
While we were impressed with several fascinating newspaper and magazine articles on the community, we were always left disappointed by the various news clips we were able to find covering the real-life superhero movement. Most videos we found either turned the community into a joke, or failed to go past the surface level."
Adair also mentioned the impact the project has had on himself and his crew.
"On a personal level, we were blown away by the passion and enthusiasm of the heroes we met. These guys are out there making a difference (in whatever way possible), and it's nothing if not admirable. Forget the film, it changed our perspectives as people."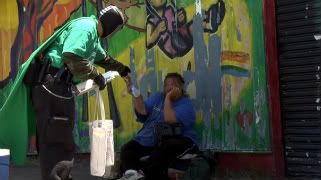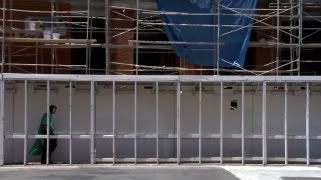 More scenes with Mr. Xtreme
You will be able to find updates on the film at their website, which launches Monday:
www.threepaneldreams.com
Adair adds:
"Also, people in the community should keep their eyes peeled for special screenings exclusively for members of the community (more information on the website soon)."