Civitron
Tea Krulos reporting
THE HERO OF A HUNDRED DEEDS
-New Bedford, MA
Civitron
has launched a site at
www.Heroic100.org
with the goal being to spotlight 100 days of different acts of heroism people can accomplish, and encourages people to add their experiences to the site. He made an appearance at a Providence Roller Derby bout in late May to tell the audience about the venture.
For Day 1, Civitron suggests picking up litter on one city block and for Day 2 an "Operation Hydration"- handing out bottles of water.
From the site:
Civitron and the Heroic 100 are challenging you to be a hero! 100 challenges in 100 days. Are you up to the challenge?

Heroic100.org was created to encourage people everywhere to develop and share their own ideas for making their world a better place. We endeavor to promote personal truth and exploration, through self-expression and creative activism to strengthen our local communities and to inspire the real-life superhero in everyone!

Your mission, should you choose to accept it is simple. Over the next 100 days, Heroic100.org will feature a new challenge each day. Read each one carefully and decide how you're going to complete it. Some will be hard, some will be easy. Some will take a few days to complete and others will take no time, at all! It's all up to you.
A motivating catchphrase punctuates the missions: "Ready. Set. Go hero!"
ZIMMER HOSPITALIZED
-Brooklyn, NY
Sources confirm that
Zimmer
was hospitalized with an arm injury (not RLSH activity related) after he was hit by a car. Zimmer and his NYI teammates were kind enough to let me stay at their house in my visit to New York, and I'd like to wish Zimmer a speedy recovery.

CAPTAIN OZONE UP IN THE AIR
-direct flight Bellingham-> Belfast
Eco-activist
Captain Ozone
has left the country, leaving his land of origins in Washington State and flying to his secondary home in Belfast, Northern Ireland. The Captain tells me in an e-mail that his
Green Power Rally
is still scheduled as planned for July 31 this month.
Participating RLSHs include
Geist
and
Razorhawk
,
Amazonia
,
The Conundrum
, and
Mr. Jack
and…uh..
am I reading this right?-
Kiki the Eco Elf
(it turns out she isn't a RLSH, but an eco-children's performer.)
"I ran out of funds to stay in the States until the 31st and leaving for Belfast (yesterday). I will still be coordinating the Green Power Rally from Belfast with the Environmental Media Northwest and the other RLSHs. The show will go on!" The Captain wrote in the e-mail.
The rally website is at
www.greenpowerrally.org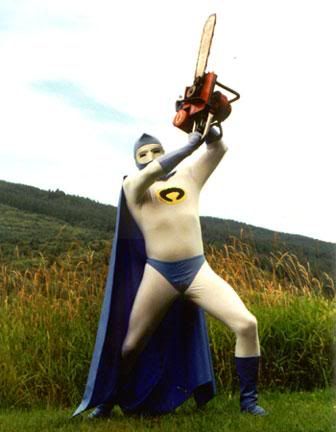 Captain Ozone with hemp oil powered chainsaw
TOMORROW
: A Profile on
Viper
and some frank talk about ninja throwing stars.
*In a sort of mirror opposite of this super challenge,Portland real life supervillain
The Overlord
is offering a
30 day "Evil Challenge"
at her website
www.freeevil.com